By
Hellper
Date
2016-09-17 06:46
Hi,

I found two cases (from two different computers) where using Gosu::Window.new(x, y, bool) leads to a bug.

In the first case the window isn't created and an error, stack level too deep (systemstackerror), is showed.

In the second case; the windows is created, and the music is played but nothing is drawn. In fact the window acts as if it had frozen a part of what's behind it.

For both problems I have tried different things, an ocra executable built from ruby 2.3.1, another from ruby 1.9.3 and a rb file with a ruby 2.3.1 installation and the result is the same. Same form creating manually a window on irb.
By
jlnr
(dev)
Date
2016-09-17 07:16
Ouch. What operating system are these computers running? Was it windowed or fullscreen mode that failed? Was there more information in the system stack error in the first case?
By
Hellper
Date
2016-09-17 08:03
The first one is on windows 10 and the second one on windows 7.
Both have been tested in window mode.
For the first case, I have a screenshot of the test on irb :
By
jlnr
(dev)
Date
2016-09-17 09:11
Strange. As for the stack overflow bug, could you please retry with a different version of Ruby? 2.3.1 or 2.2.x.

The second case sounds a bit more complicated =/
By
Hellper
Date
2016-09-18 16:51
For the stack overflow bug, I asked to my friend to redo the tests he did with ruby 2.3.1 with ruby 2.2.5 and he made a few screenshots to show what happens :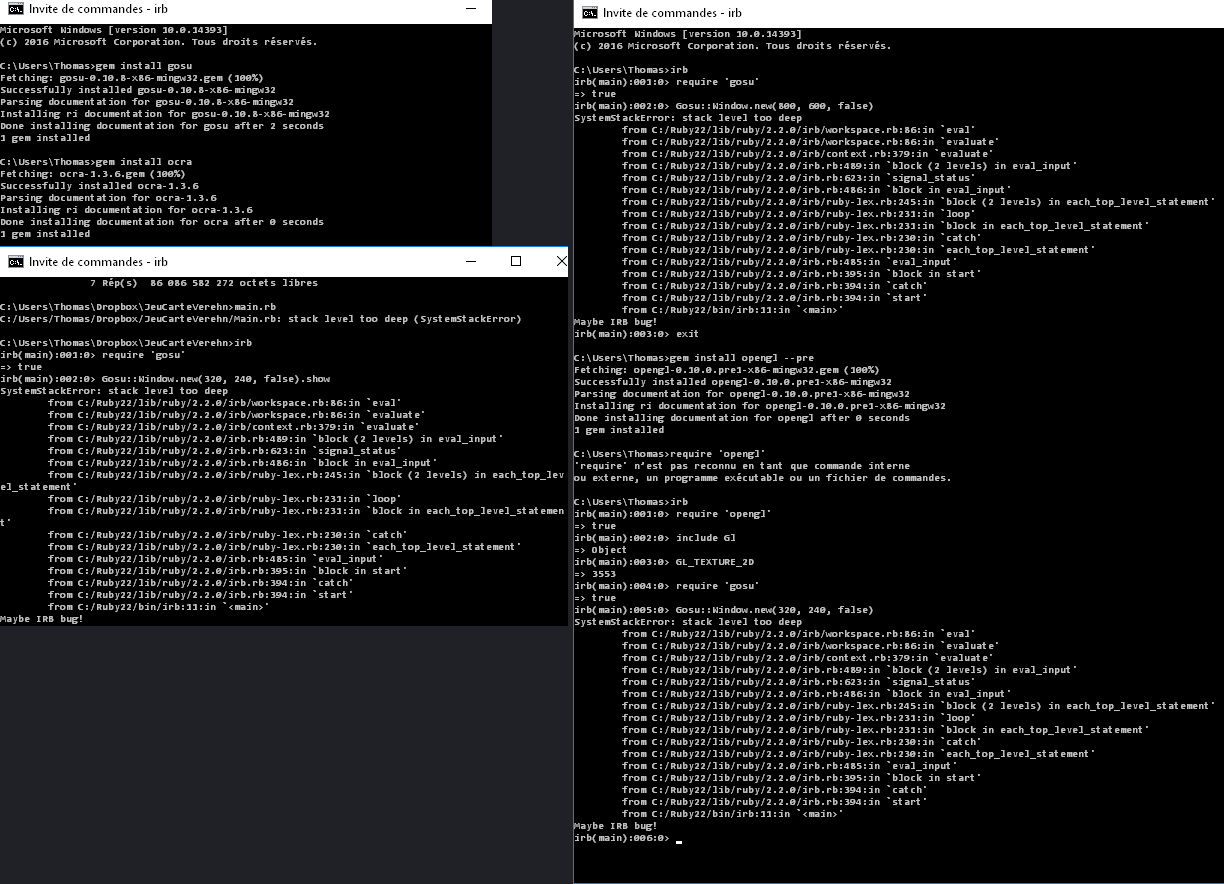 By
jlnr
(dev)
Date
2016-09-19 13:09
Thanks! I'll try to trigger some errors here and there on my system. I suspect that there is a useful error message somewhere, but Gosu's (slightly hacky) error handling turns the more useful error into a stack overflow.
Powered by mwForum 2.29.7 © 1999-2015 Markus Wichitill