By
jlnr
(dev)
Date
2008-11-07 00:40
Edited
2009-02-15 18:12
Another mini game that hasn't been listed on the Gosu site is my entry for the first RubyWeekend competition:
Source:
http://www.raschke.de/julian/temp/ZombieSoccarr.fixed.zip
Mac .app bundle:
http://www.raschke.de/julian/temp/ZombieSoccarrr.app.zip
Windows .exe:
http://www.raschke.de/julian/temp/zombie-soccarrr-win,zip
YouTube screencast: <broken>  Snapz Pro and iMovie used to be better friends.
From the readme:
$ man zombiesoccarrr

NAME
  Zombie Soccarrr!
  (RubyWeekend #1 entry by Julian Raschke <julian@raschke.de>)

SYNOPSIS
  ruby Main.rb, then follow instructions.
  Needs Gosu gem installed, or custom gosu.so available.
  See http://code.google.com/p/gosu/.

DESCRIPTION
  Who cares about the European Championship: Settle the epic battle between
  Pirates and Zombies in a friendly round of melee soccer!
 
  Game dev compos are a great opportunity to try out new things. This time I
  played around a lot with modules and Singletons, detailed Z ordering, cheap
  AI and especially DHH's recent advice of "sleep more, code less". (I usually
  reserve more free time for compos.) Sort of happy with the result.

KNOWN BUGS AND LIMITATIONS
  No music, no sprint mode, no ninjas, no proper passing of the ball. Don't
  report AI flaws, it's zombies and drunkards after all! ;)

TOOLS
  TextMate, Photoshop w/ Wacom, Audacity/SFXr.

NOTE
  I actually hate man pages.

SEE ALSO
  Log.txt for a log of what I did.
 
ACKNOWLEDGEMENTS
  Greets to Annarrr, Suki, my flatmate, flgrrr and #rubygame.
 
LICENSE
  MIT license for all source and media.

  Stock images used have been taken from http://www.cgtextures.com/.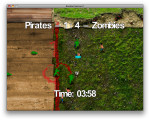 By
Maverick
Date
2009-05-27 14:49
The most original aspects of a soccer game I've ever seen. It was just amazing and smooth to play. You had better win something.
Powered by mwForum 2.29.7 © 1999-2015 Markus Wichitill