By
ippa
Date
2009-12-14 09:50
Edited
2009-12-18 10:37
By
ippa
Date
2009-12-14 16:03
By
phelps.db
Date
2009-12-15 00:16
It appears that no such gem "opengl" exists.

I tried to gem install ruby-opengl to see if that was the same thing, but to no avail, for it tells me that it fails to build the native gem extensions and then proceeds to spit out a lecture-length error. I'm on Ubuntu 9.10 with ruby 1.9.1, if that says anything to help the problem, although it did not work with ruby 1.8.7 either.
By
jlnr
(dev)
Date
2009-12-15 08:25
Yeah, for some reason the gem is called "ruby-opengl" :)

I guess your rubygems version is recent? This gem has a tendency to always require the latest version.
By
banister
Date
2009-12-15 11:27
@phelps, im on ubuntu and i do not get that error, can you pastie the error msg? my immediate guess is you do not have the opengl headers installed.
By
ippa
Date
2009-12-15 11:29
damn, didn't know the open gl gem would cause so much trouble ..

jlrn: retrofy in next release? *puppyeyes*
By
phelps.db
Date
2009-12-15 23:17
The details of the error can be found
here
.
When I used "gem -v" it returned 1.3.1
As an aside, when I tried to play selene, banister, it spat out a segmentation fault in texplay of some sort.
Geez. None of the games seem to be working for me.
By
banister
Date
2009-12-16 05:46
yeah, the segfault in texplay only happens on some versions of linux and should be fixed when 0.7.16 gosu is released.

the error in ruby-opengl is due to this: "/usr/bin/ld: cannot find -lruby". On my system the library is called -lruby1.8 and -lruby1.9. I got the same error when installing the ruby-opengl gem and i fixed it by creating a symlink from ruby1.8.so to ruby.so and reinstalling the gem, a similar
thing can be done for ruby 1.9
By
banister
Date
2009-12-16 06:06
IMO if you want to play ippa's game it's best to dl the windows version and run it in WINE (since tp will still segfault on your system so you wont be able to play it from source)
By
ippa
Date
2009-12-18 10:30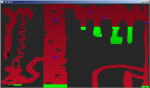 Powered by mwForum 2.29.7 © 1999-2015 Markus Wichitill