By
SavageHolycow
Date
2018-09-19 17:32
Edited
2018-09-20 13:17
Probably the most beautiful Pong game you'll ever play! <3

Use the keys A and Z to control the Left-bar and Up and Down arrow to control the Right-bar. Game ends when the moon is out of the screen.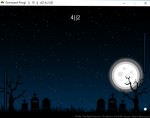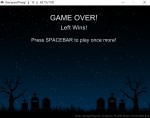 By
jlnr
(dev)
Date
2018-09-19 19:51
The link seems to go to the Ruby file only. By the way, you can also attach zipped games (I think the limit is 10 MB on this board), and you can toggle "embed" to make your screenshots appear inline with your post.
By
SavageHolycow
Date
2018-09-20 13:19
:D Kay! Fixed!
Powered by mwForum 2.29.7 © 1999-2015 Markus Wichitill